Translation chat is a podcast on Japanese to English media translation where your host, Jennifer O'Donnell, chats with translators and editors in the Japanese to English localization industry about their favorite translations of Japanese media.
Music by Alex Valles
Logo by Katherine Soldevilla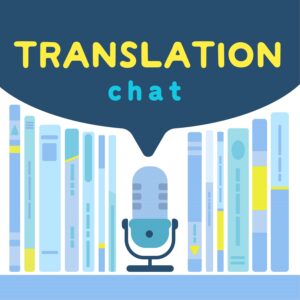 About Translation Chat
I wanted to do a podcast about translation for a few years now, but could never pin down something I was happy with. At first I thought an advice podcast for freelancers would be good, but there are already so many great podcasts out there for freelance translators it felt like I'd just be repeating what is already well covered. (Check out Smart Habits for Translators, Speaking of Translation, The ATA Podcast, and SlatorPod for general advice and industry news!)
I knew I wanted it to be about Japanese media translation (as that's my specialty) and decided instead to focus on a celebration of amazing translation. It's so easy to complain about why a translation isn't great, which means most discussions surrounding translation are about what's wrong with it. (Just look at the controversy over the Squid Game translation last year!) As a Nerdfighter who aims to "decrease world suck", I wanted to create positive discussions about translations.
So I created Translation Chat (previously named Honyaku Chat until I realized that would be inaccessible for non-Japanese speakers).
In this series I interview people who work in the Japanese to English media localization industry about their favorite translations by other people. We discuss why the translations are so good, and how the translation has impacted their own work and views on translation.
I hope people continue to take these away to have positive conversations about translation.
Season 1
There are 10 episodes in Season 1. Episodes were recorded in 2021 then released over 2021-2022. (Season 2 is in the works!)
You can listen to episodes via the links below, on Anchor, or anywhere else you get your podcasts!
Media type: Novel
Genre: Fantasy, sci-fi
Daniel Morales is a writer, translator and former association professional based in Chicago. He writes the website HowtoJapanese.com and is a regular contributor to the Japan Times Bilingual page.
Daniel chose to chat about Hard-Boiled Wonderland and the End of the World by Haruki Murakami, translated by Alfred Birnbaum and edited by Elmer Luke.
Media type: Video game, visual novel, otome game
Genre: Fantasy
Anne Lee is a freelance Japanese to English translator and editor. She also writes and podcasts about Japanese pop culture at Chic-Pixel.com in addition to her day job in communications. She's particularly passionate about otome games, which is why she chose to chat about Taisho x Alice by Primula, translated by Molly Lee.
Media type: Anime (subtitles)
Genre: Mystery, noir
Katrina Leonoudakis is a professional translator and localization specialist. In addition to working full-time at SEGA as a project coordinator, she subtitles anime for Funimation and Sentai Filmworks, as well as translates manga for Seven Seas.
Katrina shares with us her passion for anime translation by talking about the subtitle translation for the anime Odd Taxi, released in the West by Crunchyroll and translated by Mikka Stifler.
Media type: Video game, JRPG
Genre: Fantasy, action
Liz Bushouse is a Japanese to English video game translator. She has a masters degree in translation and loves to talk about translation theory.
Liz shares her insight from her excessive research into the Final Fantasy localizations by talking about how the Final Fantasy VII Remake localization was handled. The English of which was translated by Ben Sabin, John Crow, Noriko Iwahara, Philip D. Gibbon, and Ryan Patterson, and edited by Morgan Rushton and Tim Law.
Media type: Video game, JRPG
Genre: Horror
Andrew Echeverria is a Japanese-to-English media translator with a focus in games. He's been in the industry for half a decade, in which time he has had the opportunity to work on manga, tourism, tech, and games. He also loves all things horror, especially the more surreal, cerebral, and phantasmagoric entries in the canon.
Andrew chose to chat about the 2001 survival horror game Silent Hill 2 which was localized by Jeremy Blaustein.
Media type: Manga
Genre: Historic fantasy, spy thriller, comedy
Nathaniel Hiroshi Thrasher, also known as Rook, is a light novel and manga translator.
Rook chose to chat about the popular Shonen Jump manga Spy x Family, written and illustrated by Tatsuya Endoand, and translated through Viz Media by Casey Loe.
Media type: Video game, JRPG
Genre: Fantasy
Wesley Bishop is a localization director at video game developer and publisher Capcom.
He decided to chat about the English localization of Final Fantasy XII, which was translated by Alexander O. Smith and Joseph Reeder.
Media type: Anime (dub)
Genre: Mystery, crime thriller
Morgan Watchorn is a manga translator for Seven Seas Entertainment.
She chose to talk about the English dub adaptation for the 2005 anime Black Cat, which was translated by Masako Ollivier, then adapted by Andrew Rye and Eric Vale for dubbing.
Media type: Novel
Genre: Sci-fi, mystery, thriller
Gavin Greene is a freelance localization director, translator, and interpreter specializing in video games. In his ten years in the industry, he's translated more games than he can count (he's better at writing than math). As a localization director, he organizes multilingual teams bringing fun and games to various corners of the world. And as an interpreter, he talks and sometimes people listen.
For this episode he chose to chat about the sci-fi novel Harmony by Project Itoh, translated by Alexander O. Smith.
Daniel McCalla is a Japanese to English video game translator and (occasional) editor. In this episode he chose to chat about The Great Ace Attorney Chronicles, which was released in English (and sadly English only) for the first time on the Switch, PS4 and Steam in 2021.
The localization was directed by Janet Hsu, with English localization by Plus Alpha (translation by Will Blatchley and edited by Clare Saracine).
Season 2
Another ten interviews with professionals about their favorite Japanese to English media translations will be coming in 2022! (Hopefully!)